Bookends Used Book Store at Pack Library will be having a collectible book sale on Friday, November 18 and Saturday, November 19 from 10 a.m. – 4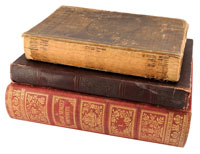 p.m. This sale will feature antique and collectible books, first editions and rare finds for bibliophiles. The collectible books will be in Lord Auditorium on the lower level of the library. Cash or check only will be accepted for this sale.
In addition, there will be a hallway book sale outside the library featuring holiday books, movies and music. Children's books in a variety of subjects will also be available in the hallway sale.
For more information, call Pack Library at 250-4700 or email library@buncombecounty.org. All proceeds will benefit the library.